Treats That Bring Back Sweet Memories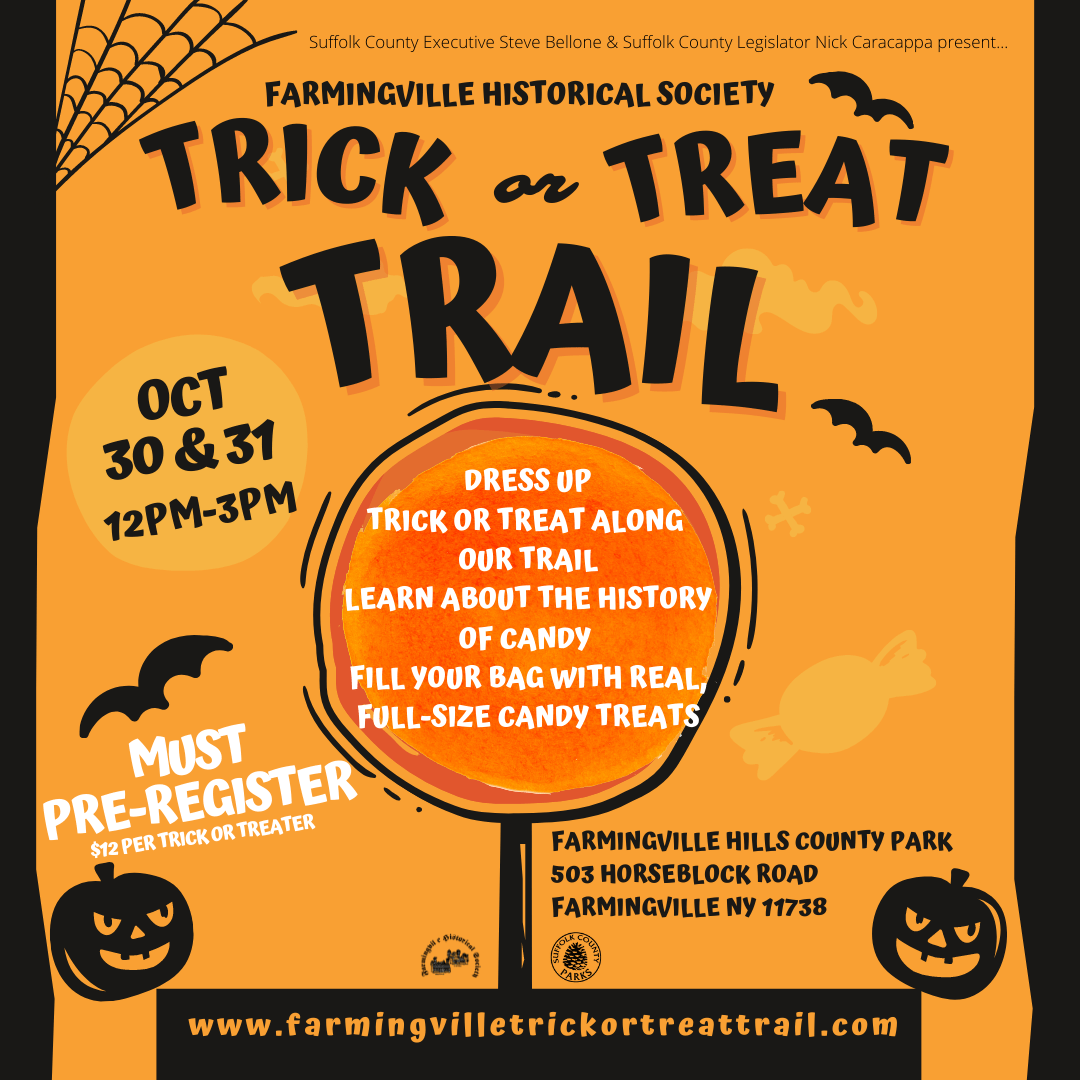 Candy is not often part of a history discussion, but there is such a rich history when it comes to candy and its makers. When the Farmingville Historical Society teaches about what life was like for students in the 1800s, they have a special section that focuses on popular treats at the time. Many early candies were medicinal in nature versus being considered a sweet treat. Here are some 'historic' candies and their stories:
Rock Candy
Rock candy has a few names including rock sugar, crystal sugar, or sugar candy. It is a type of confection composed of large sugar crystals. Rock candy is formed by allowing a supersaturated solution of sugar and water to crystallize onto a surface.
According to a historical account by confectionary company Dryden and Palmer, when rock candy was first discovered, it was considered a therapeutic substance, similar to medicine. At a time when storage was far more primitive, rock candy was used to help preserve some foods. By the mid-1700s, people began to use rock candy for a sweet treat.
In the US, today's rock candy is often colored and flavored and, because it is old-fashioned in nature, it is sometimes difficult to find.
Tootsie Rolls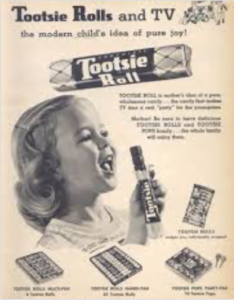 The Tootsie Roll is a chocolate-flavored taffy-like candy that has qualities similar to both caramels and taffy.
Leo Hirshfield, the founder of Tootsie Roll Industries, introduced Tootsie Rolls to the candy industry in 1896 from a small store in Brooklyn, NY. Hirschfield named the candy after his daughter, Clara, whose nickname was Tootsie.
Hirschfield was the first to individually wrap candies, which revolutionized the candy industry. The individually wrapped Tootsie Rolls stood out because they did not stick together, which saved retailers time and money. Tootsie Rolls were also very popular with consumers because of their unique chewy and chocolatey consistency. Tootsie Rolls remains a favorite among kids, both young and old!
Necco Wafers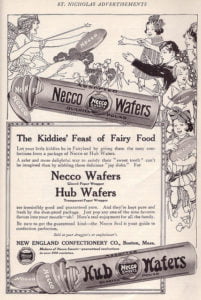 Necco stands for New England Confectionery Company and was located in Revere, MA.  They are one of the oldest candy companies, inventing the Necco Wafer in 1847. During the early 20th century and during WWII, Necco Wafers were popular because they didn't melt or spoil.
The original flavors of Necco Wafers were orange, lemon, lime, clove, chocolate, cinnamon, licorice, and wintergreen. Although they are not commonly the favorite among trick or treaters due to their chalkiness, Necco Wafers remain a very popular, nostalgic treat for many. 
Due to financial challenges, in July 2018, production of all Necco candies stopped, ending the Necco Wafers reign as the country's longest-running, continuously produced candy. Necco's candy lines were sold to Spangler Candy Company of Ohio and have re-entered the market, re-establishing themselves as a popular nostalgic candy.
The Hershey Kiss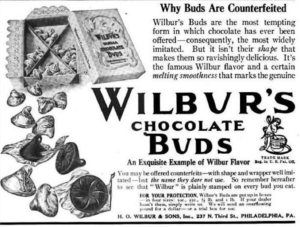 The company of H.O. Wilbur & Sons was formed in 1884 to manufacture chocolate products. One of their signature candies, the Wilbur Buds, was introduced in 1894. In 1905, Lawrence H. Wilbur developed the machine to foil-wrap the famous Wilbur Buds.
The Wilbur Buds very much resembled the shape of what we now know as a Hershey Kiss. Coincidentally, Wilbur's neighbor was Milton Hershey. The Hershey Company traces its origins to the 1880s when Milton S. Hershey founded the Lancaster Caramel Company in Lancaster, PA. After seeing German-made chocolate-processing machinery at the World's Columbian Exposition of 1893 in Chicago, Hershey decided to go into the chocolate business.
Hershey made his own version of the Buds and introduced the "Kiss"  in 1907. Hershey presumably came up with the name "Kiss" because of the sound and motion that the machine-made when it deposited the chocolate "Kiss"  onto the conveyor belt.
More than a century later, the chocolate "Kiss" is a confectionery favorite among kids and adults alike. And, while Wilbur Buds are not as well known among consumers, they are still manufactured to this day. In 1992, Cargill, Inc., one of the largest private companies in the US, acquired the Wilbur® Chocolate Company, becoming the North American hub for its growing global cocoa and chocolate business.
Combining History and Candy at the Trick or Treat Trail
To introduce kids to the history of candy and also let them indulge in some of these 'nostalgic' and familiar treats, the Farmingville Historical Society is hosting a Trick or Treat Trail at Farmingville Hills County Park on October 30 and 31st. Kids and parents will challenge themselves by learning about the history of 10 different candies along the trail. At each candy stop, they will be greeted by volunteers in costume and need to guess the candy.  Once they guess the right candy, they will get to indulge! Trick or treaters must register in advance at farmingvilletrickortreattrail.com.