A Third Grade Trip to the Year 1850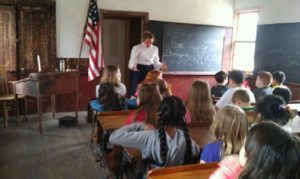 127 3rd graders from Lynwood Avenue Elementary School visited the Bald Hill One-Room Schoolhouse on April 27 and 28, 2017. Ms. BJ welcomed them as they departed from the bus at Farmingville Hills County Park. She explained how Farmingville Hills County Park used to be the home of the Bussing Family who owned one of the best orchards and farms in Long Island. The Bussing's were known for their fruit trees and bountiful vegetables and fruits.
Ms. BJ led the children on the trail through the woods to the Schoolhouse where Ms. Jen took over from there.
The children entered the historic schoolhouse, separated by gender and sitting on opposite sides of the schoolhouse. They participated in several chores to prepare the schoolhouse including gathering wood, getting water from the well, cleaning the blackboards, putting coal in the foot warmer, putting wood in the stove, and handing out slate boards and chalk.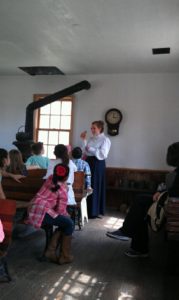 All students had an opportunity to complete one chore. In between chores, the children also had an opportunity to analyze the schoolhouse to see what was different from their current classroom. They were prompted to look at the floor, the walls, the desks, the pictures, and more. The children were able to express what they thought was different and engaged in a lively discussion with Ms. Jen and Ms. BJ.
Ms. Jen then read a story called, 'George's Feast' to the children. Their assignment was to listen intently for the theme of the story and to write down any words they felt were key words on their slate boards. After reading the story, the children expressed what they thought about the story. And then they were called on to say one word and write it on the big blackboard. This provided them an opportunity to listen intently, practice their spelling and write on the main blackboard!
All children received a replica of a slate board to take home with them.
We look forward to hosting the Lynwood Avenue Elementary School 3rd Graders in 2018!