Conquer the Hills
Conquer the Hills Black Friday has been approved for 2020!
Our 4th Annual Conquer the Hills Run & Hike will still take place Black Friday, November 27, 2020 with some changes to ENSURE we are COVID safe. This is an untimed race. Here is what to expect – PLEASE READ:
Normally we are a 5K. The 5K requires some overlap in the trails which we want to avoid this year. Therefore, this year's run/hike will only be 2.6K. The trails are open to the public and, therefore, runners and hikers can return and do more laps.
Everyone will NOT start at the same time. We will have 5-minute start time increments. After registering, you will receive a confirmation email with a link to a booking calendar. Here you will schedule a start time between 8:30 AM – 12:30 PM. If you are with a family or group, you will register together in one start time. A family or group will be up to 4 people. If you are an individual you must register separately in one start time.
You must pre-register. The race will NOT take any registrations on the morning of the race.
There will be no pre-race hot chocolate or post-race food distributed this year. We will hand out water bottles at the end of the race to all participants.
We will also hand out vintage Conquer the Hills t-shirts to participants (t-shirts from past years).
You will arrive a few minutes prior to your designated start time, check-in at a tent, and then start your run at your designated start time.
Upon arriving, everyone must wear a mask. During the run/hike, participants can remove their mask but must put it on after crossing the finish line.
We are requesting that hikers select later start times. This will minimize runners from passing hikers. Please select start times later than 11AM if possible.
At times, participants will need to pass each other. Please practice proper social distancing and allow people to easily pass on the trails.
If there is a spike in COVID cases and it is deemed unsafe to host this event, we will refund all registration fees.
100% of the proceeds of this event support local history education through the Farmingville Historical Society.
Click here to register as a family or group ( 2-4 people): $20 registration fee – registration closed
Click here to register as 1 person: $10 registration fee – registration closed.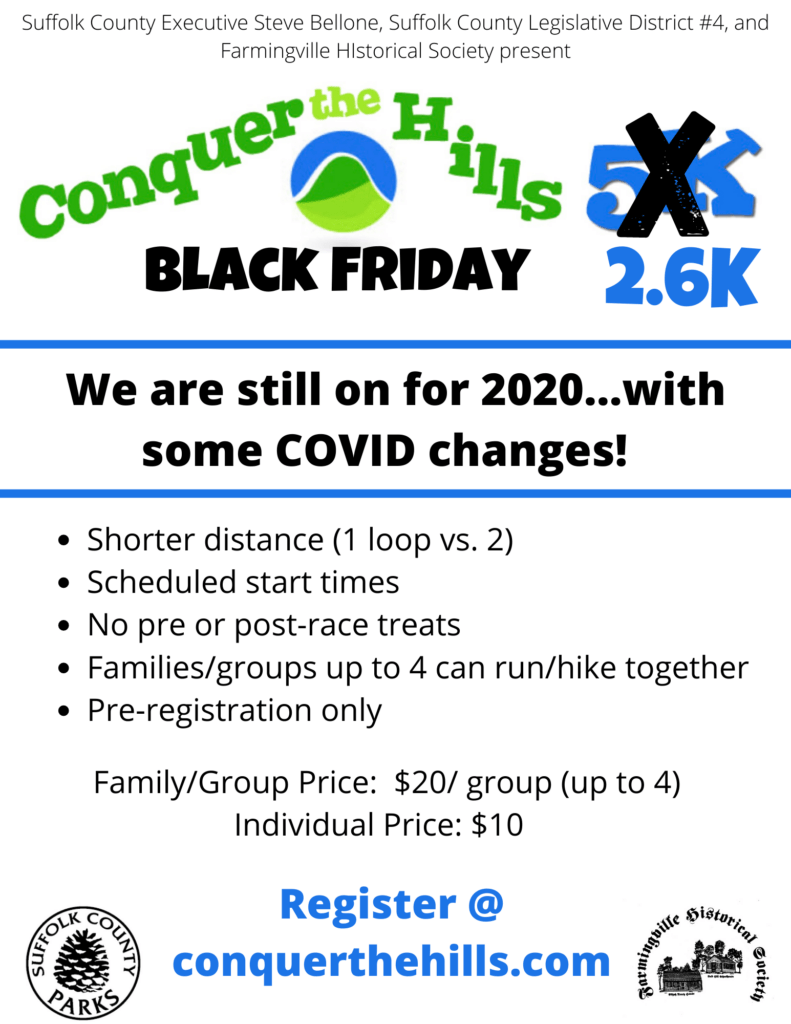 Click here for 2018 Race Results:2018 Conquer the Hills Results Sheet1