Local Elementary Students Honored with History Awards
This week, the Farmingville Historical Society honored three fifth grade Sachem elementary school students with a History Award. The Farmingville Historical Society established a 5th Grade History Award to honor one special student at Lynwood Avenue Elementary School, Waverly Avenue Elementary School and Chippewa Elementary School.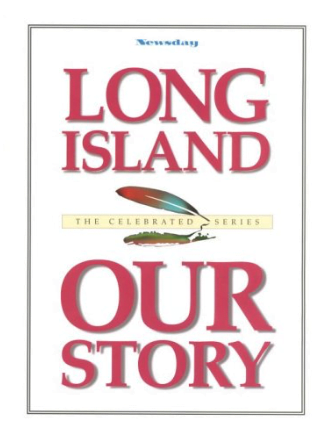 The student was selected by the 5th grade teachers at the specific school. The teachers were asked to identify that one student who has an innate passion for learning about history. This sounds like a very basic description but most teachers know right away who that one student is.
This History Honor includes 3 important awards:
A plaque to remind him or her about this accomplishment.
A family membership to the Suffolk Museum in Riverhead so they can continue their passion for learning history.
A book entitled "LI Our Story" to also support their love for learning about history.
Congratulations to our first annual Farmingville History Award recipients! The History Award honorees and their bios are listed below…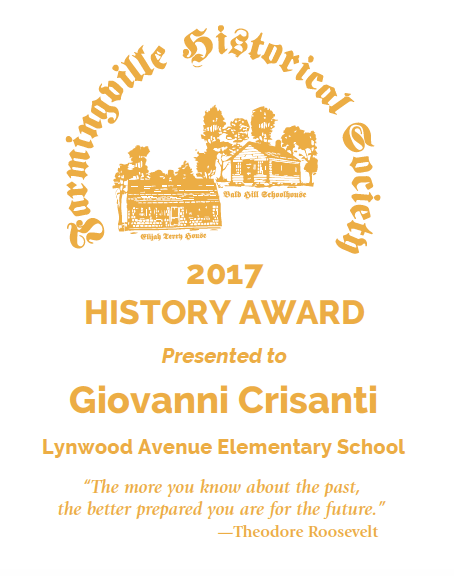 Lynwood Avenue Elementary School: Giovanni Crisanti
Giovanni Crisanti enjoys learning about all topics regarding history. He is fascinated with learning about past leaders and wars. His interest in history started to take off in the 3rd grade. In 4th grade Giovanni's curiosity about history grew even more while studying about the US and he made an informative slideshow about the Battle of Bunker Hill. This year his appreciation for history is apparent during lessons. He always contributes pertinent information to class discussions. It is rare to find him without a history book in hand. Giovanni is always searching for additional information about the topics we are studying and shares his findings with others.
Waverly Avenue Elementary School: Andrew Morgan
Andrew Morgan has lived an exciting life considering he is just 10 years old. His father is a marine. He lived in Japan when he was a toddler and then moved to California! He first came to Sachem last year as a 4th grader. Andrew is a good student, but his passion is studying history. When he is given a choice for independent reading, he usually grabs a book about World War II or a famous American. Recently, the 5th graders were asked to research someone famous and write a biography. It was no surprise that Andrew chose Andrew Jackson, the 7th US president and famous general. He puts effort into all of his subject areas and is a role model for other student.
Chippewa Elementary School: Justin Crowe
Justin was new to Chippewa this year. He has always lived on Long Island but he is interested in learning about the rest of the world. Someday he would like to travel to England and see firsthand what life is like there. For independent reading time in class, Justin brought the adult book Flag of Our Fathers to school. When asked why he enjoyed reading the book Flag of Our Fathers, Justin said he was interested in reading about the people and learning about Iwo Jima. His interest may have come from his grandfather who Justin said was in the Air Force. Justin does enjoy watching the History Channel with his dad and grandpa. He has shown an interest in joining the military some day and would probably enjoy visiting the places he has read about. Whenever Social Studies is discussed in school, Justin's ears perk up and he always has a lot to offer. His interest during the Farmingville Historical Society visit was commendable. Justin has maintained an A average in Social Studies this year and is very deserving of this award.